FiIRST WEEKEND IN JANUARY-ART WALK Date(s): January 8th & 9th,Studios and Galleries showcase various local artists Contact www.YaquinaRiverMuseumofArt.org
Chamber of Commerce Luncheon TBD
FIRST WEEKEND IN FEBRUARY-ART WALK Date(s): February 5th,& 6th. Studios and Galleries showcase various local artists Contact: www.YaquinaRiverMuseumofArt.org
TOLEDO"SWEETHEARTS" DISPLAY – Hand painted and personalized Sweethearts are placed all over Toledo on the street lamps Entire month of February Contact: Toledo Chamber of Commerce
NEWPORT SEAFOOD & WINE FESTIVAL Date(s): February 24th, 25th, 26th, 27th
CHAMBER OF COMMERCE LUNCHEON- TBD
FIRST WEEKEND IN MARCH-ART WALK Date(s): March 5th & 6th. Studios and Galleries showcase various local artists. Contact www.YaquinaRiverMuseumofArt.org
CHAMBER OF COMMERCE LUNCHEON Date: CANCELED
FIRST WEEKEND IN APRIL- ART WALK Date(s): April 2nd & 3rd. Studios and Galleries showcase various artists. Contact: www.YaquinaRiverMuseumofArt.org
TOLEDO FOOD SHARE PANTRY- OUTRUN HUNGER 5K/10K Run/Walk Date: TBD
CHAMBER OF COMMERCE LUNCHEON- TBD
MOTHER'D DAY FLOWER BASKETS
Arrive Date(s): Prior to Mother's Day Toledo's incredible flower baskets are hung on street lamps around town Contact: Toledo Chamber of Commerce- Kathy Crane
541-336-3183
FIRST WEEKEND IN MAY -ART WALK
Date(s): 7th & 8th Studios and Galleries showcase various artists. Contact www.YaquinaRiverMuseumofArt.org
CHAMBER OF COMMERCE LUNCHEON-TBD
FIRST WEEKEND IN JUNE-ART WALK
Date(s): June 4th & 5th Studios and Galleries showcase various local artists Contact www.YaquinaRiverMuseumofArt.org
TOLEDO WATERFRONT MARKET
Date(s): June 2nd, 9th, 16th, 23th from 10:00 am to 3:00 pm Vendors selling fresh fruits and veggies, crafts, merchandise and more! Memorial Field Contact: Toledo Chamber of Commerce, Kathy Crane 541-336-3183 or check out our website www.toledooregon.org or email director@toledooregon.org
ART, OYSTERS and BEER
Date: TBD
Live Music
Timbers Restaurant and Lounge
Contact: www.arttoledo.com

TOLEDO SWAP MEET & CLASSIC CAR EXHIBITION
Date: JUNE 26 Memorial Field 9 am to 3 pm. Vendors sell Motorcycle and Car Parts, Tools, Household Items, Furniture etc. Classic cars on display. To reserve your space go to www.toledooregon.org, call 541-336-3183 or email director@toledooregon.org
FIRST WEEKEND IN JULY – ART WALK
Date(s): July 4th & 5th Studios and Galleries showcase various local artists Contact www.YaquinaRiverMuseumofArt.org
TOLEDO WATERFRONT MARKET
Date(s): July 7th, 14th, 21th, 28th from 10:00 am to 3:00 pm Vendors selling fresh fruits and veggies, crafts, merchandise and more! Memorial Field Contact: Toledo Chamber of Commerce Kathy Crane 541-336-3183 or checkout our website http:www.toledooregon.org or email director@toledooregon.org
ART, OYSTERS AND BEER
Date: TBD
Live Music
Timbers Restaurant and Lounge
FIRST WEEKEND IN AUGUST-ART WALK
Date(s): August 6th & 7th Studios and Galleries showcase various local artists Contact: www.YaquinaRiverMuseumofArt.org
TOLEDO WATERFRONT MARKET
Date(s): August 4th, 11th, 18th, 25th from 10:00 am to 3:00 pm Vendors selling fresh fruits and veggies, crafts, merchandise and more Memorial Field Contact: Toledo Chamber of Commerce Kathy Crane 541-336-3183 or check out our website www.toledooregon.org or email director@toledooregon.org
ART. OYSTERS AND BEER
Date: TBD
Live Music
Contact: www.arttoledo.com

TOLEDO SPECTACULAR SWAP MEET
Date: TBD, 9 a.m. – 3 p.m. Vendors sell Motorcycle and Car Parts, Tools, Household Items, Furniture etc. Memorial Field, Toledo, Oregon To reserve your space call 541-336-3183 or email director@toledooregon.org
TOLEDO ROTARY GOLF TOURNAMENT
Luncheon, and Auction Olalla Valley Golf Course Date: TBD, Sign up teams and donate Contact Toledo Rotary
ANNUAL TOLEDO ART WALK
Date(s): September 3th, 4th Labor Day Weekend Annually Over 50 Toledo Artists open Studios, and Galleries around Toledo with FREE admission, music, artist talks and food. Contact: www.YaquinaRiverMuseumofArt.org
ART, OYSTERS AND BEER
Date: TBD 12-5pm Live Music Timbers Restaurant and Lounge
FIRST WEEKEND IN OCTOBER-ART WALK
Date(s): October 2nd and 3rdStudios and Galleries showcase various local artists Contact www.YaquinaRiverMuseumofArt.org
MAIN STREET & DOWNTOWN TRICK OR TREAT
Date(s): October 31st 3:30 PM to 6 PM Main Street business owners dress up and hand out candy to hundreds of costumed kids with accompanying adults Contact: Toledo Chamber of Commerce Kathy Crane 541-336-3183
CITYWIDE SCARECROW DECORATIONS CONTEST
Date(s): Oct. 31stThe Toledo community prepares for autumn by decorating their homes and businesses with scarecrows and fall themed items Contact: Toledo Chamber of Commerce, 541-336-3183
FIRST WEEKEND IN NOVEMBER-ART WALK
Date(s): November 6th and 7th Studios and Galleries showcase various local artists Contact www.YaquinaRiverMuseumofArt.org
TOLEDO TREE LIGHTING CEREMONY & COMMUNITY PARTY
Date: Saturday, November 27th at 5:00 PM at the end of Main Street in front of Cobblestone Pizza. Community Party is planned after the lighting to be held at the Toledo Elks Lodge if Covid-19 restrictions are lifted. Contact: Toledo Chamber of Commerce, Kathy Crane 541-336-3183
First Weekend in December-Art Walk
Date(s): December 4th and 5th Studios and Galleries showcase various local artists Contact www.YaquinaRiverMuseumofArt.o
CHRISTMAS FOOD BASKET PROGRAM Details to come
Toledo "Sweet Hearts" Display
Toledo's "Street Hearts" – Hand painted and personalized sweethearts are placed all over Toledo on the street lamps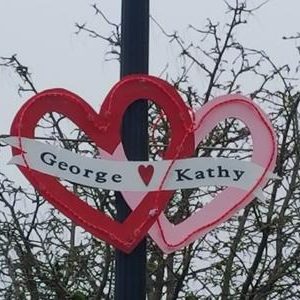 Mother's Day Flower Basket Program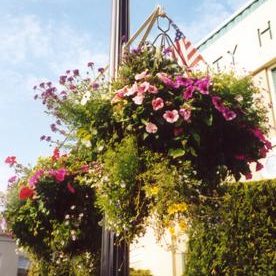 Market Hours
Open every Thursday,
June – August10.00am – 3.00pm
Admission is free
Last year, the Toledo Waterfront Market was more successful then ever in spite of the pandemic and is growing every year. The Market attracted on average of 200 visitors per day. It attracted tourists from over 48 cities in Oregon and 16 US states, in addition to our local people all over Lincoln County. Fun was had by one and all. Visitors could grab a hot dog at Moondogg Cantina and have a picnic on the grassy grounds. Listen to some music, shop at the market for arts and crafts, fresh produce, fruit, baked goods, yard art, patio furniture, jewelry, wood art, ice cream, cotton candy and more. It was an ideal destination place for those vacationing on the coast or whose children were out of school due to the pandemic. MEMORIAL FIELD IN TOLEDO.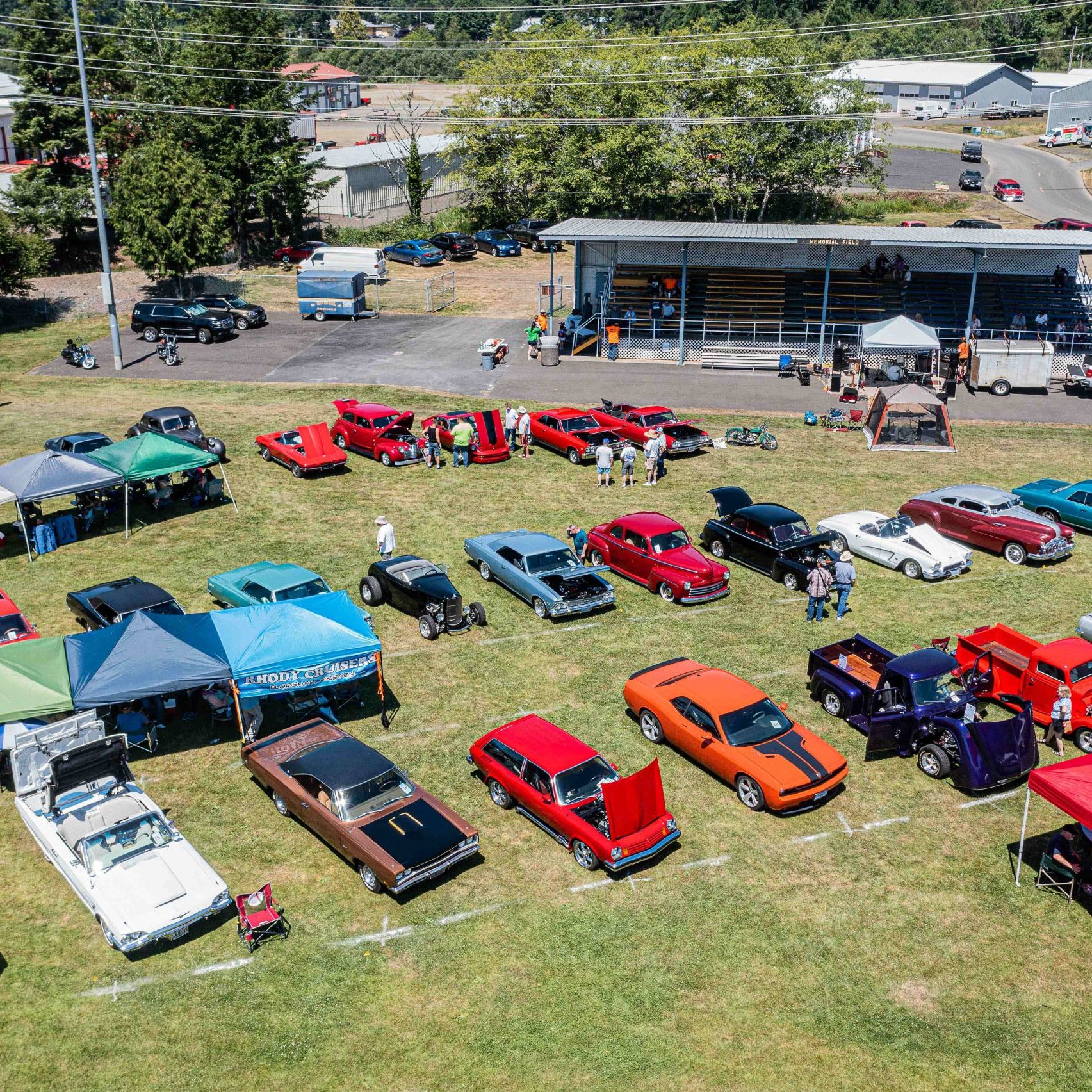 TOLEDO SWAP MEET AND CLASSIC CAR EXHIBITION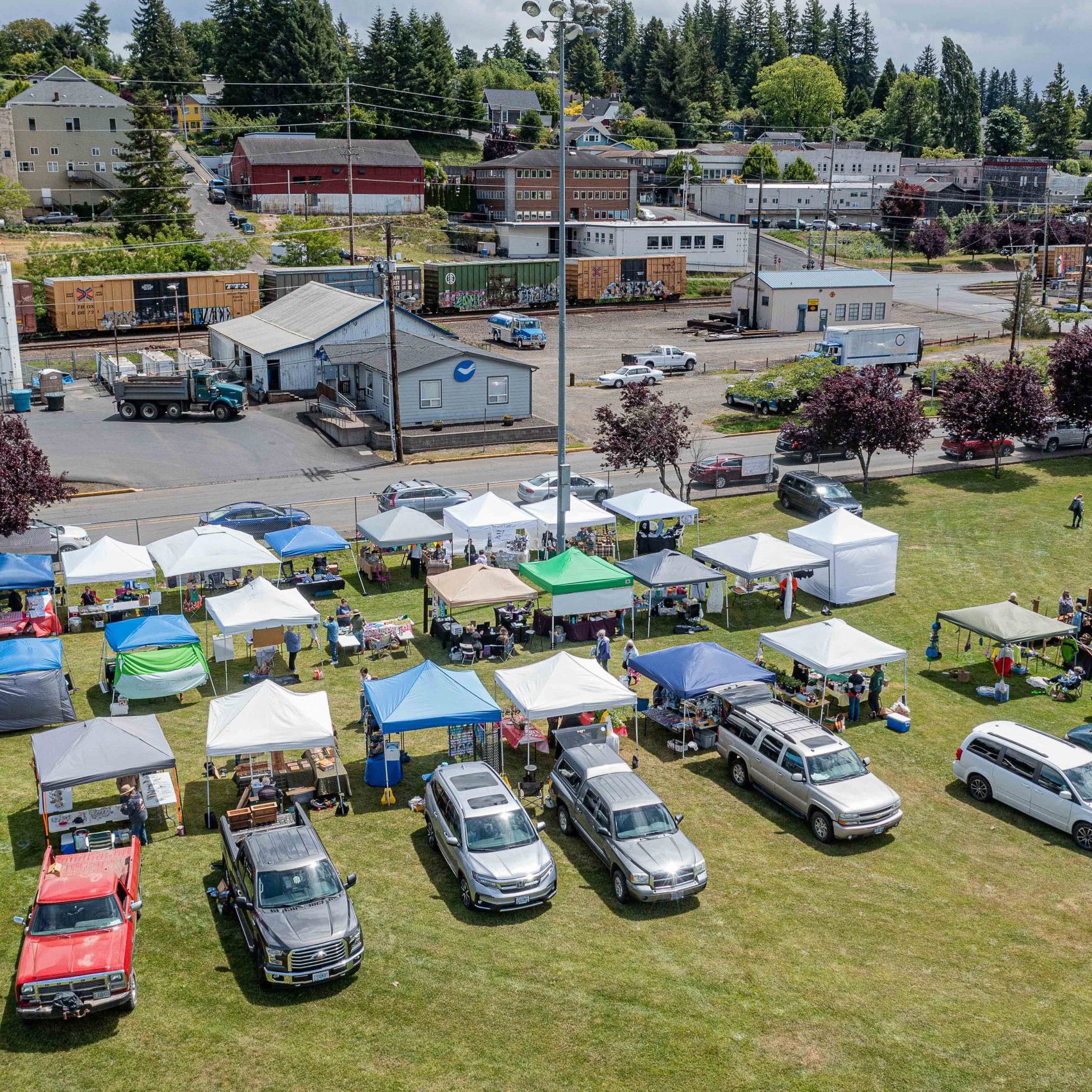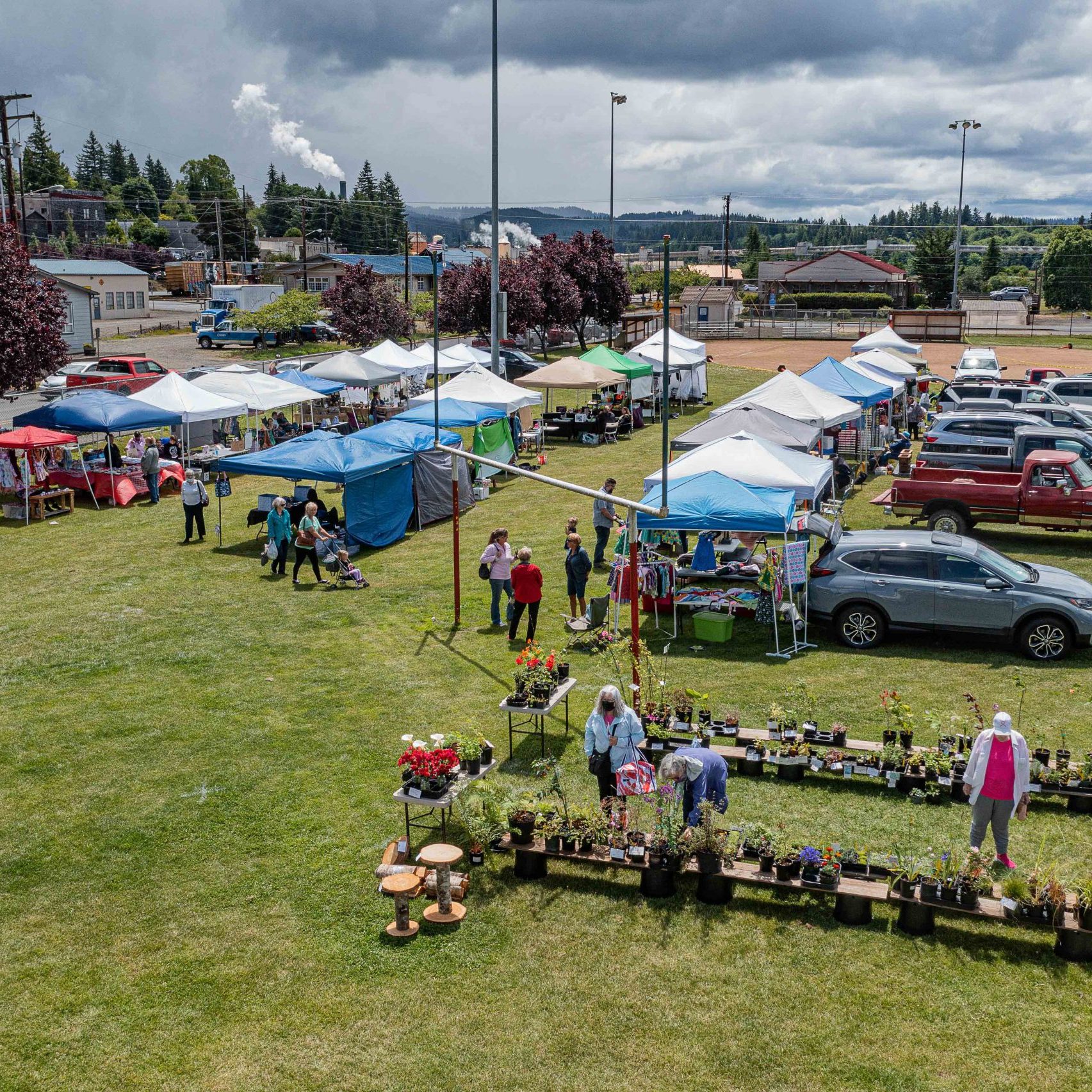 Main Street and Downtown
Trick or Treat
Date(s): October 31st 3:30 PM to 6 PM
Main Street business owners dress up and hand out candy to hundreds of costumed kids with accompanying adults
Contact: Toledo Chamber of Commerce Kathy Crane 541-336-3183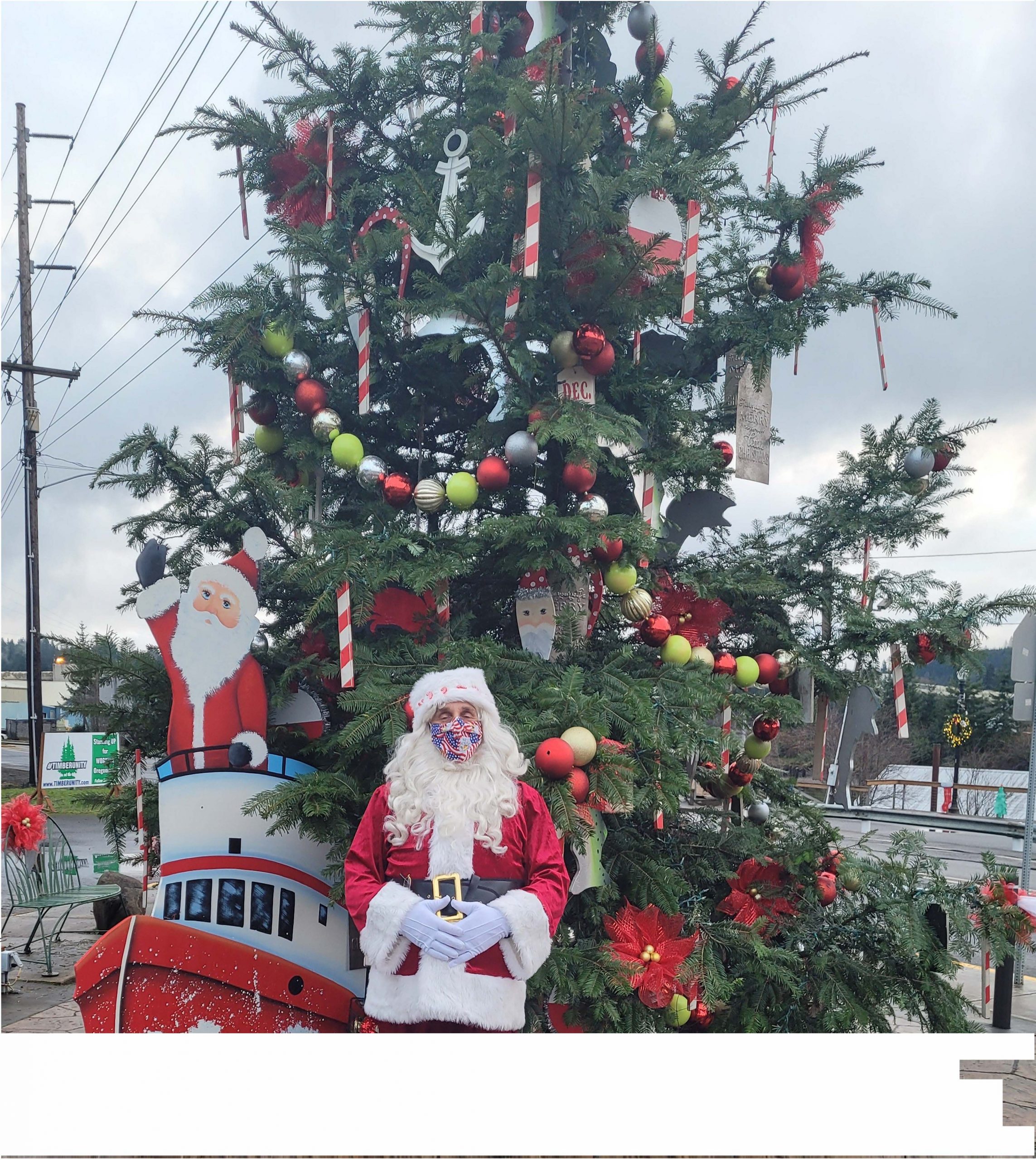 Lorem ipsum dolor sit amet, at mei dolore tritani repudiandae. In his nemore temporibus consequuntur, vim ad prima vivendum consetetur. Viderer feugiat at pro, mea aperiam
Lorem ipsum dolor sit amet, at mei dolore tritani repudiandae. In his nemore temporibus consequuntur, vim ad prima vivendum consetetur. Viderer feugiat at pro, mea aperiam
FIRST WEEKEND IN NOVEMBER-ART WALK
Date(s): November 6th and 7th Studios and Galleries showcase various local artists Contact www.YaquinaRiverMuseumofArt.org
TOLEDO TREE LIGHTING CEREMONY & COMMUNITY PARTY
Date: Saturday, November 27th at 5:00 PM at the end of Main Street in front of Cobblestone Pizza. Community Party is planned after the lighting to be held at the Toledo Elks Lodge if Covid-19 restrictions are lifted. Contact: Toledo Chamber of Commerce, Kathy Crane 541-336-3183